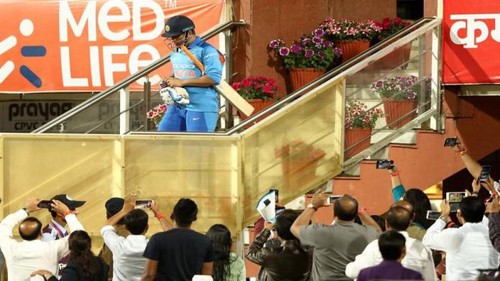 Keeping in mind the World Cup, team management is giving rest to the last two ODIs in the home field against the current Australia team management team management. And the fans have felt the danger, so what did the wicketkeeper-batsman have played on the last ODI of the home ground on Friday?
India defeated Australia by 32 runs in the third one-dayer on Friday. Indian assistant coach Sanjay Bangar said on Monday that Dhoni has been given rest in the last two ODIs of the series. Rishab Pant can play his place. That indicates Virat Kohli.
Team management rested on Dhoni's wish in the match between March 10 and 13. In those two matches, paceman Mohammed Shami can also be out. Because the right-hander hit the fielding himself during the 5th over of the innings on his own, he was injured in the fielding.
In the next two games, there can be more than one change in the India XI, said the Bangalore batsman, "Dhoni will not play in the last two matches of the series against Australia. She asked for rest. Meanwhile, due to injury in the third ODI, there is danger for Mohammed Shami in the next match. If he can not play, Bhuvneshwar Kumar is recovering from injury.
Meanwhile, captain Kohli said that there will be some changes in the next two matches. Some players thinking about the World Cup in front of them have the idea of ​​examining.