ORIGINALLY WRITTEN IN HINDI, I HAVE TRANSLATED THE POST TO ENGLISH. HOPE READING THE POST IS NOT TOO INCONVENIENT
England aur India ka 2018 shankalaa ka scorecard, 1-4 dekhnese lagta hai ki India ye shankala bahut buri peettai ho gayi. Yeh sach juror hai ki Lord's mein jo test hui, usmein India bahut buuri tarah se haar gayi. Aakhri Oval ki test mein kissi bhi team ke upper jyada tension nahin hone ki karan woh test ek dead rubber test maana gaya tha. Yane ki India tab tak shankala haar chuki thi aur England jeet gayee thi. Aur yeh mukable mein England ne aisi batting ki, ki India ko koi nahin nahin raha. K L Rahul aur Rishab Pant ne apne charitra jaroor dikhaye lekin mauka guzar chukha tha.Joe
The India England Pataudi Trophy series that the former lost 1-4, was more closely contested than the score line suggests. The first test at Edgbaston could have gone either way but India was thrashed in the second test at the Lord's. Despite the demoralising rout, India did well to recover at Trent Bridge and win the test convincingly but promptly lost the next at the Agean Bowl. In the final test, a dead rubber match, England simply batted India out of the game despite some late heroics from K L Rahul and Rishab Pant.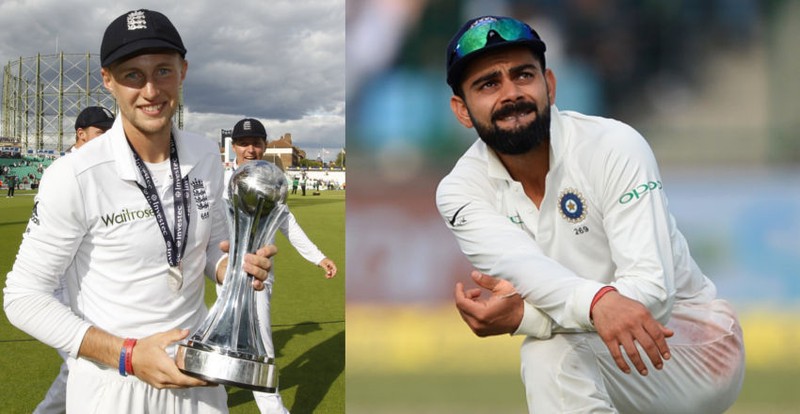 India teesri test Trent Bridge, Nottingham mein joh kheli, woh Lord's ke haar ke bawazood jabardaast tarike se jeet gayi. Useke baad ke dono test kaafi nazdeek ke maamle the. Inn mukabalon mein koi bhi team jeet sakti thi, jaise ki pehli test mein. Mujhe aisa lagtha hai ki agar India chaturthi se khelti thi to unko hi jeet haasil karne ka mauka yeh donom test matchon mein jyaada tha. Lekin India ki team kahin murktapurn galtheeyan kar baithee. Hum abhi yahaan kahin aise kaaran dekhenge jinke wajeh se India yeh shankalaa haar baitee aur apna jo duniyan mein sarwashrestr cricket team ka paydhaan hai, usko cricket ke pasandithon ke drishtree se kho baitee.
Not taking anything away from the way the English played the game the Indian team have themselves to blame for the debacle in the series. Had the Indians been a bit smarter in the field and in their strategies, there would have been an entirely different story to tell. A more astute approach could have won them at least two of the games played at Edgbaston, Nottinghamshire and Southampton. In this post, we shall take a look at where the Indian team erred and compromised their status as the top-ranked team in the world at least as far as the fans are concerned and what the team has to do about it.

Shankala ki shuruwaat ke pehle abhyaas match kum khele
England mein jo koi pardesi cricketer khelen hai, who sab ka manna yeh hai ki wahaan per test match shuroo hone se pehle abhyaas match Duke's ka laal gendh se jitne bhi khelein utna hi behtar hai prvasi teamon ke liye. Unko gendh hawa mein kitna aur kaunse mausam mein ghoomti hai uska andaaza tabhi achcha milta hai. Yeh baat to hum bhi jaante hai ki pardes jaane ke baad, koi bhi insaan ko mausam ka parichit hone ke liye samay jaroor lagta hai. Lekin India ke team uar unke board ne aisa program sehmat kiya tha ki, India ki team ek hi teen din ki match laal gendh se khel payee unke test match ki baari shuroo hone se pehle. Yeh ek sabse badaa galti saabeet hui.
Not playing enough pre-test practice games
Any foreign cricketer who has played test cricket in England will go to great lengths in emphasising the need of playing a sufficient number of pre-series practice matches for visiting teams. But the Indian cricket board (BCCI) had only one three day match lined up with Essex before the first test which was way below adequate. With more matches, the Indian cricketers would have got better accustomed to the Dukes ball and with how it behaves in different weather conditions. That was one of India's biggest mistakes.
Team ka selection
Lagbag har test mein India ka test selection munaachit nahin raha. Pahle test mein to maan jayenge ki selection pakhaa hone ka andaaz kaftaan aur coach hona mushkil hai. Parantu doosre test mein puure ek din ka barsaat hone ke bawajood bhi do spinner chune gaye. Yeh to bahut baddi bhool thi. Aur Chateshwar Pujara jo achcha anubhavi batsman hai test matchon mein, unko pehle hi test mein lene ke bajai, dusri test mein daakil kiya gaya. Teesri test India aasani se jeetne ki baad bhi Ravichandran Ashwin , jo pehle hi dukheet hua thaa, usko chauthi test mein khelne ko khna bhi ek bahoot badi galti hui. Uske kamre mein dard tha yehi baat to saaf-saaf dikh rahi thi aur who theek tarike se se bowling nahin kar paa rahe the. Agar wohi game mein Jadeja khelta to nateeja kuch au ho sakta thaa. Jab tak aakhri test aye tab tak maamla haat se nikal gaya tha.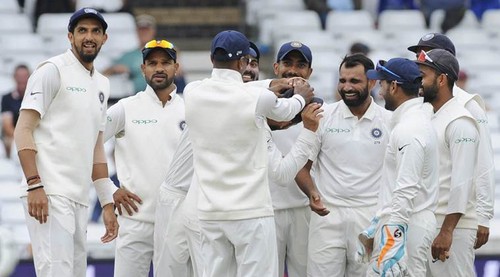 Selecting the team
In almost every test India did poorly while selecting the playing eleven. Chateshwar Pujara is among the dourest of the Indian batsmen with oodles of patience. India deffered his services and lost the first test by a small margin despite some good bowling performances. In the second test, India going with two spinners after the first day's play was washed out raised many an eyebrow. No doubt the weather favoured England but India lost miserably. Having won the third, including visibly uncomfortable Ravichandran Ashwin in the fourth test was another blunder that India could have done without. By that time India had lost the series and Alistair Cook decided to shut the door in India's face in the final test.
England ko katteen parasthitiyon se chutkara dena
Har match mein England batting karteh hue aise parasthitiyon mein fass gaye the ki India uskaa fayda le sakti thi aur game mein poori tarah se haabhi ho sakti thi. Lekin har baar England ke cche, saat aura aat ballebaaz waapas lautne ke baad bhi India ne uska fayda nahim haasil kiya. Inn paristithiyon mein caftan ne jyada tar galat gendbaaz ko astamaal kiya aur fielderon ko aatmrakshak tarike se failaa diye.
Letting England get away from tight situations
England was in dire straits in every test match and if India had sustained the pressure then, India would have had more chances of winning them. But the choice of bowlers that were brought into the attack by the Indian captain was poor. Moreover, upon the slightest resistance from the English middle order and lower down batsmen, the India captain chose to go on the defence with his field placing. This let the English batsmen be more comfortable in escorting their team to safety and effectively victory.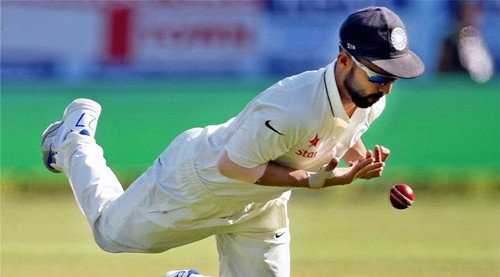 Catch chodd dena

Halanki dono teamon ne catch bhoot chode, India ne jo catch faila diye who bahoot menhge saabeet hue. Who issi liye ki kaafi baar Englnd ki team tabhi moosibathon mein fassi hui thi. Unka ya to ballebaaz jyada out hue the ya run bahoot kam the. K L Rahul ke bajai, baaki koi bhi fielder ke upper katch pakki lene ka bharossa nahin raha. Yeh maamla khas karke slips mein mehngaa padaa. Maan jataa hun ki India ke jyaada tar ke ballebaaz aakramak tarike se khelne ko maana jaate hai. Toh unko wohi rukh apnane mein team ke caftan aur coach ko raazi karke lena tha. Unka santulan aur amnasikta ek dheemi baari khelne ki jaisi nahin hai, jaise ki Pujara aur kaftan Kohli ki hai.
Poor Catching
Both the sides let down many a catch in this series. But the catches that the Indian infielders dropped, particularly in the slips proved to be India's undoing. Most of these catches were let down when England was more or less on the ropes. England promptly made most of the opportunities afforded them and India paid with the test. Other than K L Rahul, who was dynamic none of the close in fielders very impressive with their catching, perhaps because of the cooler temperatures, which takes again to the practice matches argument.
Aur bhi kahin galtiyaan India ki team kar baitee jaise ki Pandy ke uppar che number ka ballebaaz kahke bharosaa rakhna, aur team ko chunte huesab khiladdiyon apna pad surakshit hone ka bharosa dilana. Koi galat khiladi ko mukabla mein chun liyenge to jo khiladi samajta hai ki unko khelna chahiye tha who galat samaj leta hai aur pareshaan hot hai. Iss baat pe Kohli aur coach ko khayaal rakhna chahiye.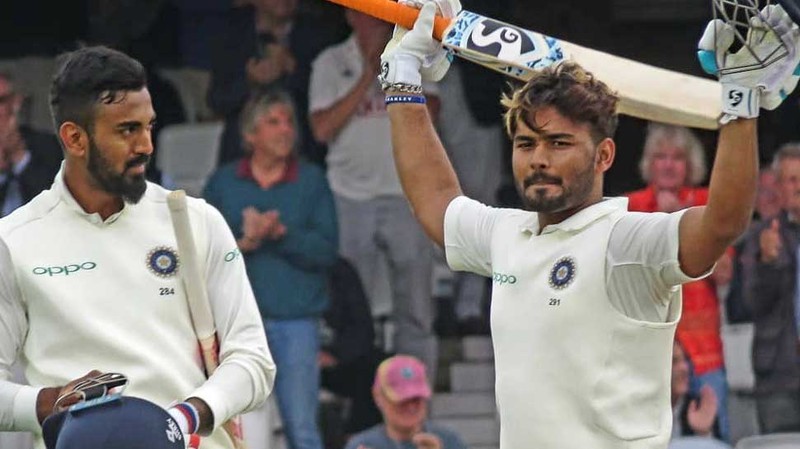 There were other slip-ups too and one of them was relying too heavily on Hardik Pandya as a batsman although he bowled a very effective spell at Trent bridge which brought India a big win. Such acts are likely demoralising to other players on the bench when they feel that they could have contributed maybe better. The performance of the leading Indian batsmen would have had a role in the way the debutants Rishab Pant and Hanuma Vihari played.

Aage hokar agar India ke team ko apna pramukh team ka paydhaan per kabzaa jaree rakhna hai, to unko yeh sab baton peR khayaal rakhna padega. Bharossa raKhte hai ki apna team aise hi karegi aur Asia Cup jeet jayegi.
Going Ahead India will have to look at these mistakes if they want to retain the aura of the number one ranked team. Let us hope they do and go ahead to win the Asia Cup at Sharjah.

ACHCHE COMMENT KO SAB KE SAB UPDATE KIYA JAYENGE!
ALL GOOD COMMENTS WILL BE UPVOTED