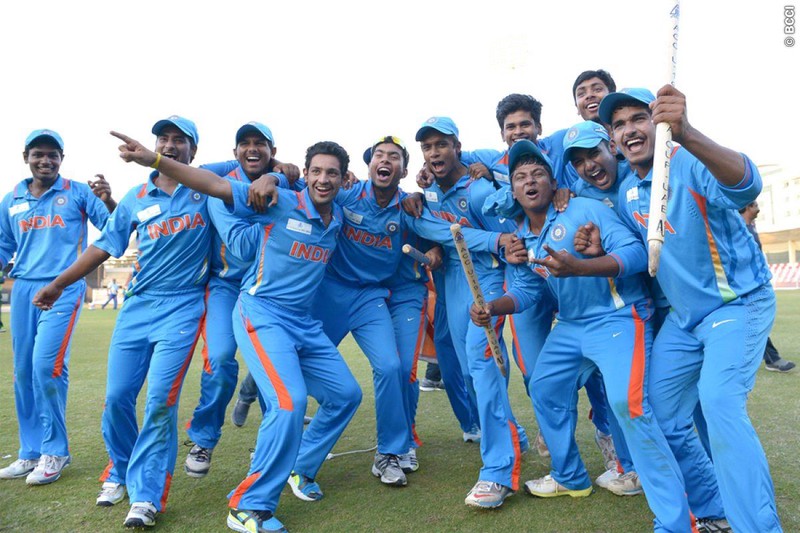 Hello friends,
Today I would like to share with you about Under-19 Asia Cup Final. Indians senior cricket team have been won against Bangladesh best ever a day ago. After that today our junior cricket team also win the Under-19 Asia Cup final in Dhaka against Srilanka cricket team. Today, India junior team defeated Sri Lanka by 144 runs in the finals held in Dhaka and have become champions for 6 consecutive times. This time India has defeated Sri Lanka in 04 times of the Under-19 Asia Cup final. This tournament has proved that the Indian Under-19 team is also ahead of the other country in the Asia Cup. Last year, Prithvi Sah led the Under-19 team and made India the world champion. Now Indian junior Asia Cup captain is Praw Simran Singh. Simran Singh is a good batsman and also a good fielder. Today, Simran has scored 65 runs in 37 balls.
Earlier, the Indian junior team made 304 runs in 50 overs fall of 03 wickets. Indian opener Jaiswal and Anuj Rawat made 121 runs as a partnership. Anuj Rawat was out for 57 runs. The highest score of this tournament Jaiswal scored of 85 runs for India. In reply, Sri Lanka's Team were all out for just 160 runs in 38.4 overs. During the match left-arm spinner Harsh Tyagi took six wickets for 38 runs. Harsh Tyagi has been selected the best in the final match.
By winning all the matches of the group league, the youth of the Indian under-19 team defeated the Asia Cup Bangladesh team in the semi-finals. On the other hand, Sri Lanka defeated the Afghanistan cricket team in the semi-final and go to the final. Coach Rahul Dravid could not go to Dhaka with the team due to personal problem. In the absence of Dravid, W.V. Raman Bharati worked as the coach of Indian team. In the 2020 World Cup in South Africa, the Indian junior team will be fighting to keep their world title. If seen, then the next batch of Prithvi, Shubhman, and Ritam's is moving very well. Jaiswal, Anju Rawat, Simran, and Harsh Tyagi are playing very well. Indian reserve cricket team is ready and also made the next batch.
India senior team won the Asia Cup a few days ago in Dubai. Big Brothers like small brothers win the under-19 Asia Cup-2018 on today. I feel very proud to be an Indian because there is no shortage of great men in India. I hope one day India will go a long way in the world of cricket.
What do you think about this post? If you have any opinion about this post then write your opinion in the comment box, please.

Thanks for visiting my blog.