That started with Rohit. The Indian Captain chose Lucknow to surpass the disappointment of the failure of his favorite ground Eden Garden. And the Indian bowlers made sure to win the match against the West Indies. The 2nd T20 was easily won by Rohit & Company. Won by 71 runs. Yeah, that is a big win, isn't it? With that, India is leading the 3 match series with 2-0. It makes the Chennai T20 just a match to defend our reputation.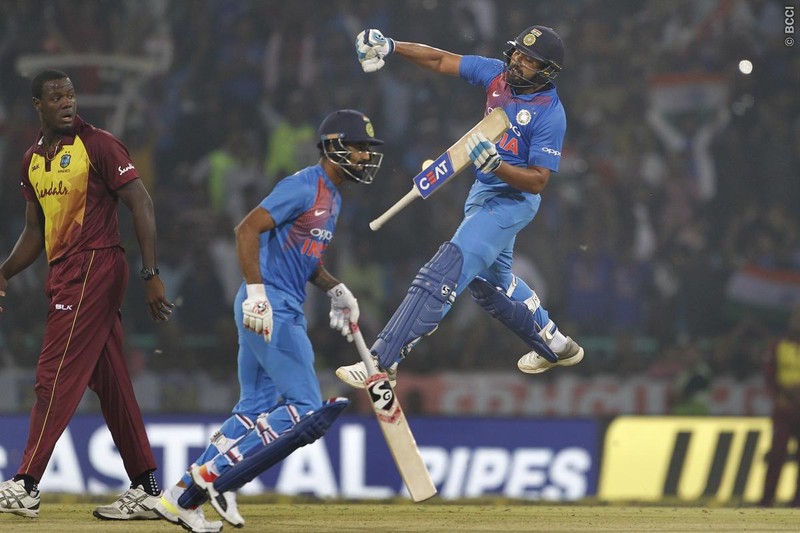 Today, West Indies Captain Carlos Brathwaite won the toss and elected to bowl fast to use the due factor in the 2nd innings. But Brathwaite didn't know that this match will come with a storm to them the Rohit-Storm. And because of this Rohit-Storm India put a total of 195 runs with losing only 2 wickets after 20 overs. Where Ro-Hit's contribution is 111 runs. Facing just 61 balls, this innings was like a fairy-action tail. Having the strike-rate of 182, Rohit smashed 8 boundaries and 7 sixes. Today, Rohit only need 11 runs to break the record of Virat Kohli scoring most runs in T20 for India. He made 100 runs extra today. Not only this but with this century Rohit also creates another record. He is the only guy who scored 4 centuries in the T20 Internationals.
It's been a long while to see Shikhar Dhawan supporting Rohit Sharma. Truly, I don't know when the 2 openers had a 100 runs partnership. But nevermind, "Der Aaye, Durusht Aaye". Today these two openers had a partnership of 123 runs. The Gabbar of the Indian Team, Shikhar Dhawan scored 43 runs. The tour of Australia is getting closer day by day. So this innings will help Dhawan to make his way in the Australian tour. Thanks to the 123 runs opening partnership India easily managed to score 195 runs with losing 2 wickets. Where Rohit and KL Rahul was unbeaten with 111 & 26 runs respectively.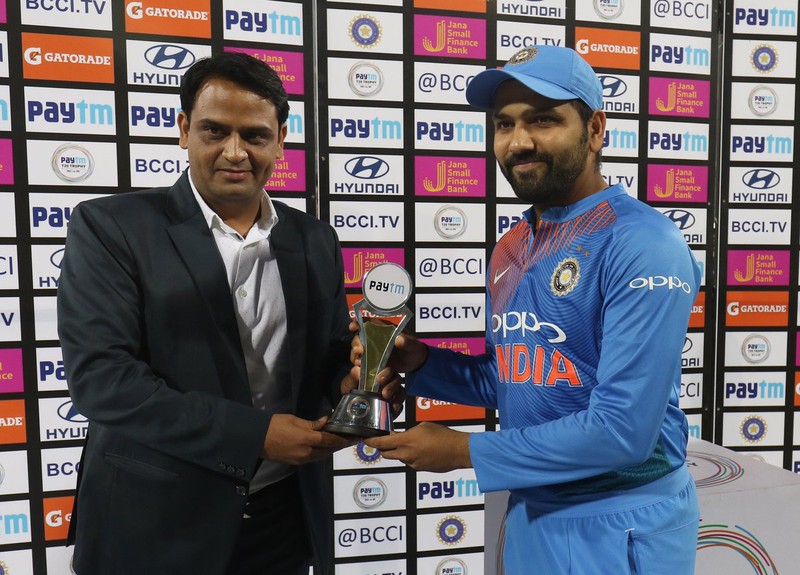 Now, West Indies need to chase 196 runs in just 120 runs. Required Run-rate was almost 10 runs per over. But, there was no shortage of chasing this huge run among the Caribbeans. The Caribbeans, who began to dream about the two batsmen in this tour — Shai Hope and Shimron Hetmyer were downed by Khaleel Ahmed. Where Shai Hope (6) was bowled by Khaleel, Shimron Hetmyer (15) was caught by Shikhar Dhawan and again bowled by Khaleel. The rest of the job was smoothly done by Bumrah-Bhuvi. Today Kuldeep Yadav again proved that why he the most dangerous Chainman in the world. All of these 4 bowlers took 2-2 wickets each. Caribbean's innings was stuck in just 124 runs. The West Indies batsmen made this run after losing 9 wickets in their 20 overs.
With this, India easily managed to win the 2nd T20 with 71 runs. The Man of the Match award goes to Rohit Sharma for his master class performance of scoring a Century.