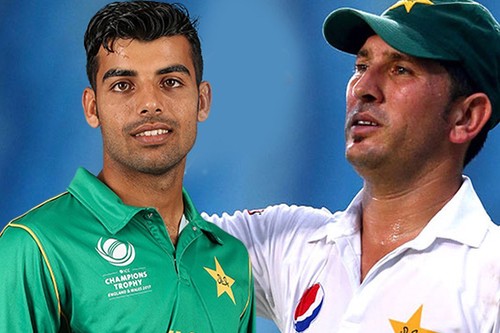 The Pakistan Cricket Board (PCB) urgently received an announcement on an urgent basis. Leg-spinner Shadab Khan's name was withdrawn from a Twenty20 and five-match ODI series against England before the World Cup. Shadab, the Pakistan team's champions in the Champions Trophy title, was the first choice for the team as the spinner for the last two years. But the selectors have forced them to withdraw from the team due to the virus-related infection.Although it has been said that the specialist doctor would be relieved to get rid of the virus infection, it was not reported to the legspinner, who had been infected with the virus. Finally, Pakistan's chief selector Inzamam ul Haq said that Shadab has been caught by the hepatitis C virus.
Chief selector Inzamam-ul-Haq said on Monday that the legpinner's hepatitis C virus was detected after the test. "Shadab Khan is not playing in the series against England," he said. Due to the transmission of the virus, he needs medical attention. For that reason, four weeks should be in rest. "In general, the infection of the virus is a jaundiced disease.
Although the team's first-choice spinner, who was suddenly sick, was hopeful of getting him in the World Cup in Inzamam. He also told to send the sick Shadab Khan to England for treatment. Former batting legend of the country said, "There is still time. Especially five to six weeks left for a change in the World Cup team, the time has been tied.
In the series against England, Shadab was replaced by another right-handed leg-spinner Yasir Shah. Although he did a great job in the Test, he could not do anything in the 50-over match between Yasir, who played 24 One-Day Internationals for Pakistan. Finally, if Shadab Khan can not recover from playing, Yasir will be able to get a chance for the 15 World Cup squad. But left-arm spinning all-rounder Mohammad Nawaz has also been considered as an option by the selectors of Pakistan.
Pakistan will play a Twenty20 match against England on May 5 before the World Cup. The five-match one-day series starts on May 8.