Today, two specialist batsmen like Tamim and Afridi were helpless in front of the bowling of Mostafiz.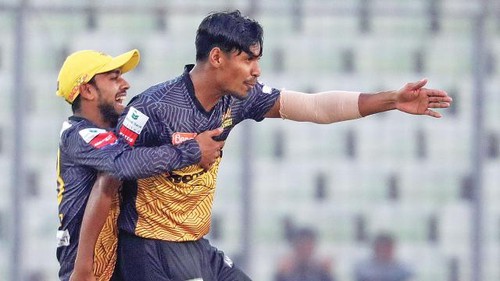 Tamim was not able to score a single by playing five balls of Mostafiz. Afridi, who took only two runs in the 9 balls played by Mustafiz,
Only 8 runs in 3.2 overs. The wicket was not getting just. In the end, all his comrades, Comilla, became victims. Rajshahi Kings scored an improbable 38 runs win. Total 21 deliveries have been delivered, Most of the 14 dots. One Wide, the Wide Mostafiz, who could not believe it, was speaking his body language. A boundary did not come from his ball. Allocation of 4 overs has been done by Sled. It's enjoyable to see this Mustafiz bowling Mostafiz's older spell is seen in the last over of the BPL this season.
Finally, like Tamim, Afridi is not a victim of Mustafiz. At least in the scorecard, it will be written. But the scorecard is all? Tamim and Afridi are the victims of Mustafiz this day.