Today, the left handed opener has reached 30. The fans are very pleased, Tamim is greeted by his teammates, coaches and various organizations. The ICC and the Lord's Cricket Ground also greeted the Bangladeshi Opener.
On the occasion of Tamim's birthday, the ICC wrote on its own page, ''12,400 international runs, 21 international centuries. The only player in Bangladesh who scored a century in three formats. Happy Birthday to Bangladesh: The tigers highest run-taker and star opener Tamim Iqbal!"' The ICC World Cup page has also been greeted by the best batsman of the history of cricket.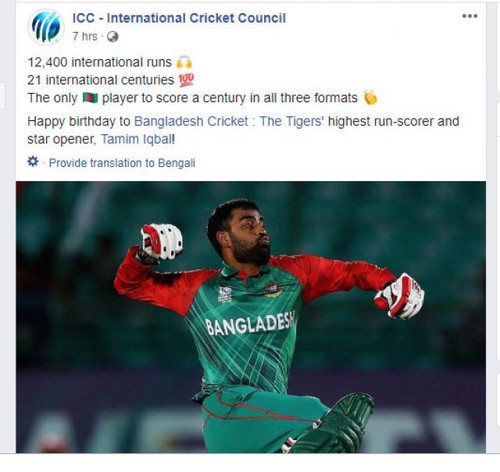 The Lord's Cricket Ground has greeted Tamim on their pages and posted a video of his famous celebration in 2010 at Lord's Test. After 55 runs in the first innings, he went back to the dressing room and asked the attendant, 'Why need century for written name on the honors board? There should be one for half century. "The attorney replied," To write a name on the honors board must be a hundred. "Tamim scored a century in the second innings. What a great century! He written his name on Lord's honors board as the only batsman in Bangladesh, Otherwise Tamim has scored more records in his career.
Happy Birth Day Tiger Tamim Iqbal!