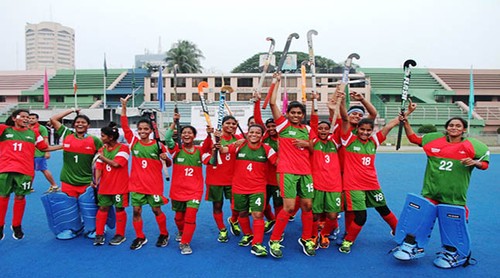 The start of the journey of women in Bangladesh is very great in hockey On Wednesday, a team of Bangladesh girls named Dhaka XI took part in friendly matches against Kolkata Warriors on Wednesday. Dhaka XI team made history by losing the Kolkata team by 2-0.
The history is coming in the context of the fact that Bangladesh's hockey practice was not the same. Some girls started playing hockey in the 1970s, but later it stopped. Although the demand for starting the practice for several years, it was not happening in a big way.
However, recently the Hockey Federation has taken the initiative to form the national team of women in hockey. As part of which Bangladesh has organized three Invitation friendly matches against Kolkata Warriors in association with Bangladesh Hockey Federation and Dhaka District Sports Association.
The first match of the three matches was played on Wednesday at the Maulana Bhasani Hockey Stadium. The match was played by the girls of Bangladesh in the first match against foreign teams. And the first one is the victory. In the meantime, in the middle of the field, they wrote a history that girls played for Dhaka XI. The history is more colorful because of winning.
Bangladesh scored two goals in two quarters. Field goals were two goals. The first goal comes from the Simu Akhtar boundary streak. He scored 9 goals in the 9th minute. Then came the second goal from Namita Karmakar's striking 23th minute.
This news is about 1 year old, it happen November, 2018.