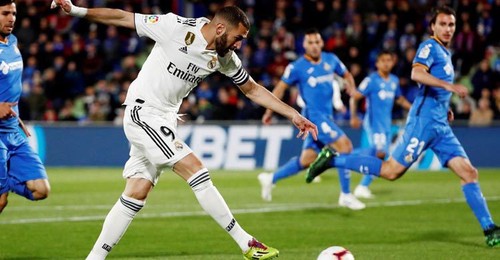 Spanish club Real Madrid are looking to lose themselves this season, Real Madrid Three consecutive UEFA Champions League titles have been dropped in the last sixteen.
The country's domestic tournament La Liga has been behind since the beginning. However, whatever hope that had survived the podium, was won by the title itself.
With the table-topper Barcelona, ​​the gap between the points was 16 due to the match, the title of the title ended on Thursday before landing on the field. Nevertheless, it was expected that at the end of the season it would be better to do the best.
But where is that? Zinedine Zidane's team returned to Bernabeu, who stumbled from the field of Guttaf. In the first match of the season, Real got 2-0 goals against Gautif on home ground.
However, in the second encounter, playing against the opponent's field, to forget the goal, Karim Benzeema, Gareth Bale, Braham Diazara. The match ended in the absence of the match
But Real has played with domination in the match. 68 percent of the entire match was in their legs. Even with 12 shot shots, only four shots were scored. Those who have easily resisted Goethepher Goalkeeper have easily resisted.
After the draw, Real Madrid remained in the third place in the table with 34 points after the draw and 65 points from 5 draws, Real Madrid remained in the third place in the table. On the other hand, in the same match, 14 victories were tied with 55 points in 13 draws. As usual, Barcelona topped with 80 points.