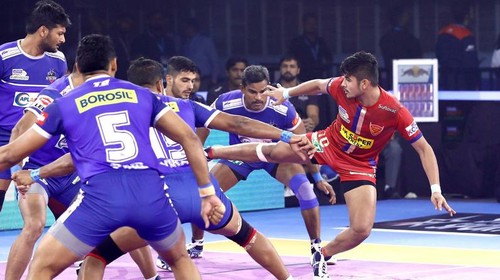 Pro Kabaddi League (PKL) season-7 is going on. Last 8 matches won Dabangg Delhi. Yesterday 9th match happened at Netaji Subash Chandra Boss Indore stadium. Haryana Steelers beats Dabangg Delhi by 47-25 and this fifth success of Haryana steelers in this league. In the history of PKL, this is sixth win out of 8 matches against Delhi. After this success, the Haryana team won 9 matches out of 13 matches with the no of 46, Haryana reached in the third number in the list.
Haryana team's Prashant Kumar Ray and Vikash Kandola were heroes of this matches, they got 10-10 marks. Ravi sun and kandola added number continually. Although, mtche's 10 minute Delhi dabangg had good score 10-7 but next minute with help of Navin Vikash Kale Hayana team lead again.
After two from starting match Captain dharma raj and Prashant made two number ahead. Match's 31th minute kandola all outed Delhi team and lead by 14 number and score became 32-18. Dabangg Delhi team tried to back through some number and Haryana didn't let him succeed. Last-minute Vikash kale did awesomely performance and got the win for Haryana steelers.
I hope you liked my post.
Thanks for reading.